It's nice to meet you...
Hello and welcome! My name is Samantha Thorley. I'm a freelance illustrator, animator and designer with years of experience in the creative industry.
The nature of the industry I work in and the job opportunities I have been fortunate to secure, has allowed me the privilege to develop and focus my skills in a range of creative fields. I have animated both television and web advertisements for large blue chip companies through to small independent start ups. My illustrated designs have been featured and sold in Joules, Not On The High Street and independent retailers throughout the UK. I thoroughly love the creative work I do and I greatly value any project that has purpose, good cause and heart at its core. (If you're reading this and your project is for a charity organization; I will always offer a discounted service).
My passion and respect for each project I undertake is not mirrored by the size of the client or the pay cheque. I endeavour to bring to each client the same level of service, passion and expertise as I would expect to receive myself and will always go above and beyond what the project requires because I simply believe that's how business should be done.
If you'd like to find out more about the services I offer or just grab a cup of tea and chat through your project (without obligation) – don't hesitate to get in touch. I'd love to hear from you.
____________________________________
Software knowledge:
Adobe After Effects, Illustrator, Photoshop, Premiere, XD, Procreate, Audition.
Languages:
Just English (at the moment).
Education:
1st Class Honours in Animation, Norwich University College of the Arts. Nobody ever stops learning. I often develop my skills via online tutorials and classes for various software developments and for the creative fields I am in.
Obsessions:
Chocolate, animals, Yogi Original Tea, Bees #savethebees, anything Rik Mayall or Bob Mortimer related.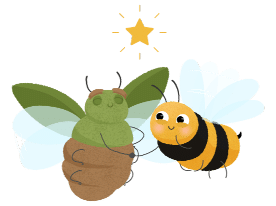 test
test
"
I have worked with many cover designers over the years and none of them matched Samantha in the thoughtfulness behind the designs they produced.
Rachel Lynch, Author
The Making of Us
"
I couldn't be more overwhelmed and happy with the result. Sam made the process straightforward, and explained it all very simply for me. She is also extremely swift in coming back communication wise - Very happy and will be recommending her services to everyone.
Charlotte James
Lottie James Art
"
I've had the absolute pleasure of working with Samantha on several projects and every time, she has completely nailed it. I'd recommend Samantha to anyone for graphic design and illustration, and I look forward to working together again soon.
Emma Portor
My Mummy is a Superhero Nurse
"
The recipient of the card fell head over heels in love....with the card. Thank you!
Elizabeth
Snowy Raccoon Christmas Card
"
I love these! So beautiful and whimsical. I will definitely be purchasing more! Can't wait to see what else she is working on.
Liz
Save the Bees Art Print
"
Absolutely Beautiful! I Love It!
Liz
Adventure Out At Sea - Children's Illustration Print
"
Great funny card. Good quality card, well packaged and received in perfect condition. Thanks
Eloise
Sassy Cat Valentines Card
"
I placed a special order. They arrived in a timely manner. The cards are beautiful.
Greta
The Story of the two Penguins Christmas Card (Custom order)